Mountain Ranges Map: The majority of the world's tallest peaks, including Mount Everest, are in Asia. At 8,848 meters (29,029 feet) above sea level at the Nepal-China border, Mount Everest is the tallest summit. Mount Goodwin-Austen, often known as K2, is a Himalayan peak that stands 8,611 meters (28,251 feet) tall in India (presently within the part of Kashmir occupied by Pakistan). Kanchenjunga, the world's third-highest peak, is also found in the Himalayas, along the Nepal-China border (28,169 feet).
The highest peak outside Asia is Argentina's Aconcagua, 6,958 meters (22,837 feet) above sea level. America's tallest peak is Mount McKinley. Mount McKinley is 6200 meters (20,320 ft) above sea level in Alaska.
A mountain ranges map is a group of mountains or hills linked by high terrain on a worldwide map. When two tectonic plates collide, the ground forces higher, creating these ranges. Mountain systems, also known as mountain belts, are groups of mountain ranges with similar forms, structures, and alignments. Many of the world's tallest mountains rise from the sea. Mauna Kea in Hawaii, for example, has a depth of more than 10,000 meters (32,808 ft). At 4,205 meters above sea level, Mauna Kea is the tallest island summit (13,796 feet). For example, Mount Ararat, Fuji, and Vesuvius are notable for their historical and cultural significance rather than their height.
World Mountain Ranges Map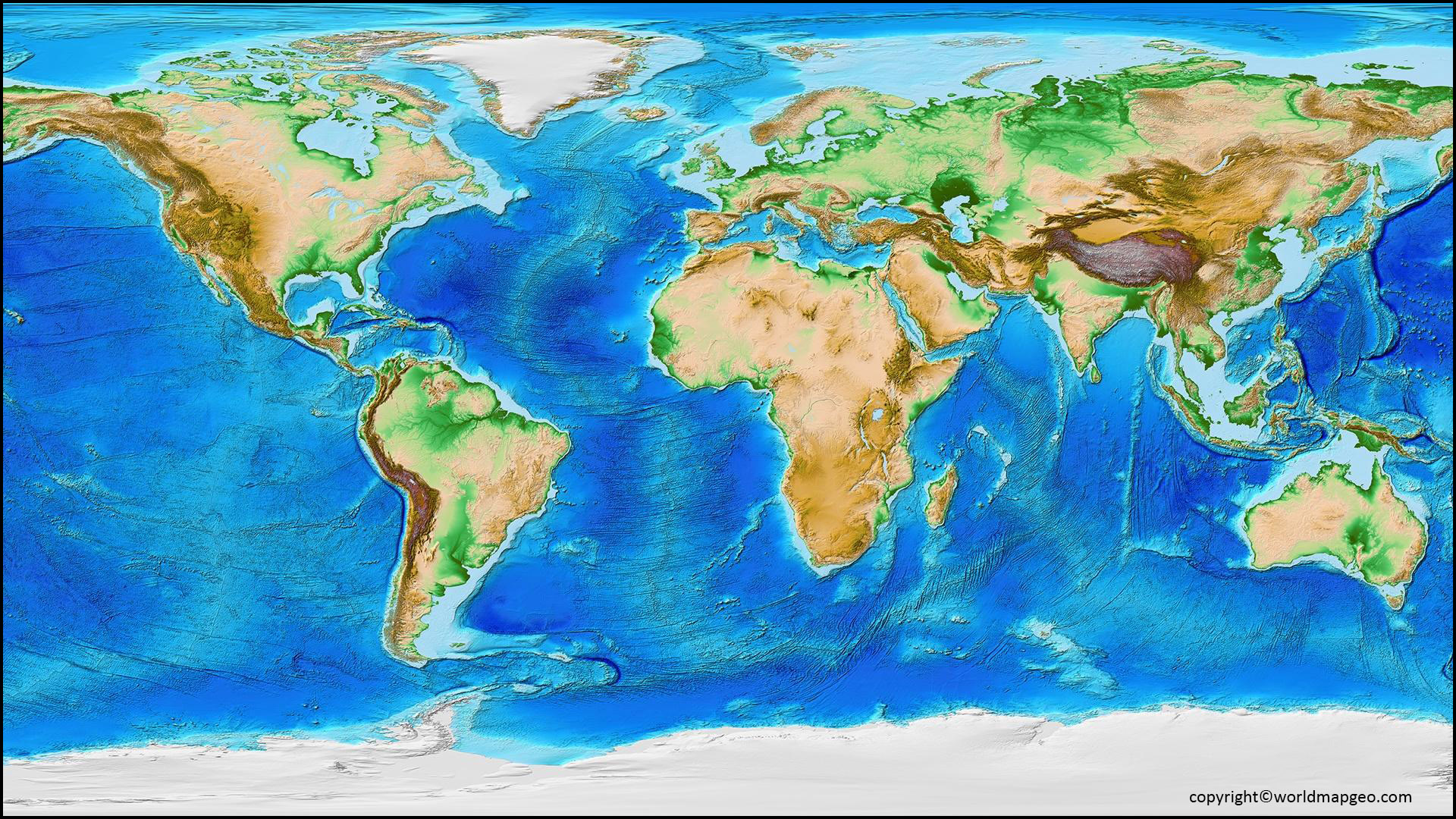 There are around 1.2 million mountains in hundreds of different mountain ranges on Earth. The following are the six major mountain ranges:
· The Himalayan Mountains in Asia were formed when the Indo-Australian and Eurasian plates collided. The range stretches over 2,400 kilometers and comprises the world's highest peaks. It's also one of the newest mountain ranges, with 1-2 inches annual growth rates.
· The Andes are a 7,000-kilometers-long mountain range in South America. They are also approximately 4,000 meters tall on average. Volcanic action created them.
· The Karakoram mountains in Asia are linked to the Himalayan range. Although they formed around the same time, they are classified as separate mountain ranges.
· The Rocky Mountains run for almost 4,830 kilometers throughout North America. They were produced by volcanic activity but are now dormant. However, they are popular due to their accessibility.
· The Antarctic Mountains are generally overlooked since few people have seen them. They stretch for almost 3,500 kilometers over Antarctica.
· The Alps are well-known for various reasons, but the majority of their fame stems from their location in Europe. This 1,200-kilometer range is suited for year-round activity and is close to significant populations. Tectonic plates crashing formed them.
Labeled Mountain Ranges Map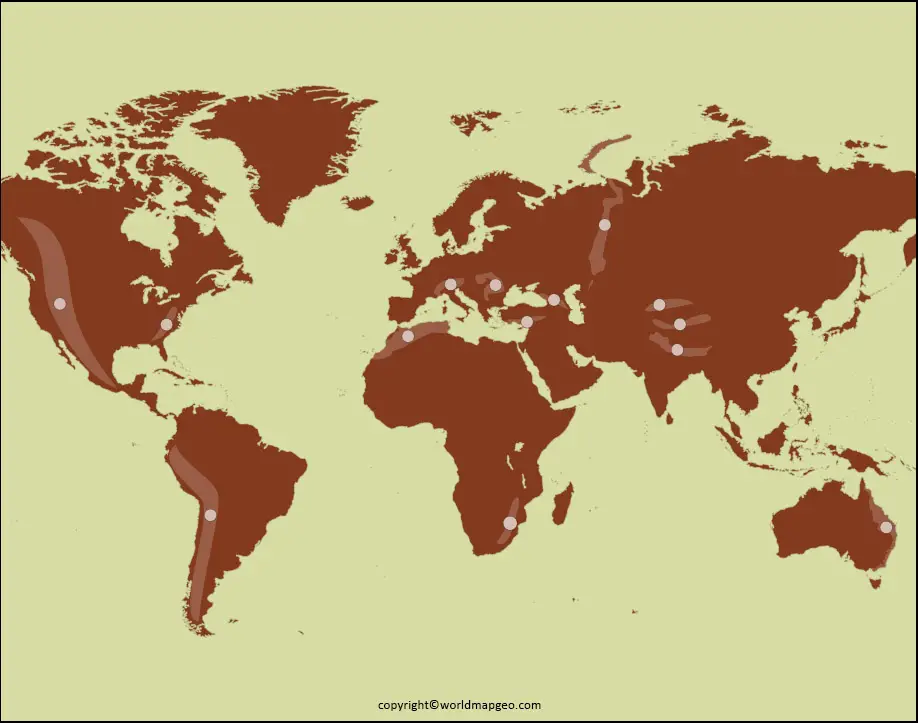 The Andes Mountains, which run South America's length, is the world's most extended mountain ranges map. In addition, it is the world's most extended continental mountain range, stretching for 7,000 kilometers. The andes mountain range encompasses Argentina, Bolivia, and Chile. The countries concerned include Colombia, Ecuador, Peru, and Venezuela. The andes mountain is one of South America's most visited natural wonders, attracting millions of tourists each year worldwide. Andes mountain range runs from Cape Horn in the south to Panama in the north.
World Map with Mountain Ranges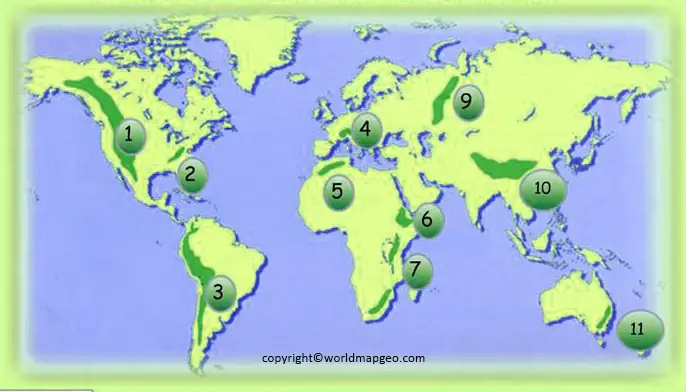 This world mountain map would look fantastic on a child's bedroom wall or in their studies. They can attempt matching the mountain ranges to the appropriate place on the map, then use the completed map as a reference and homework! Ideal for use in a primary school geography class. Once your children are familiar with the various mountain ranges, they can use our Mountain Range Fact Files to develop their presentation. Using our Famous World Mountain maps, teach your youngsters about the world's largest and most well-known mountain ranges.
Rocky Mountain Range Map
The Rocky Mountains, often known as the Rockies, are a vast mountain ranges map in North America. From the far north of western Canada to New Mexico in the southwest, the Rocky Mountains range over 3,000 miles (4,800 kilometers). Its northern endpoint is either north of British Columbia's Terminal Range, south of the Liard River, east of the Trench, or in the northeastern foothills of the Brooks Range/British Mountains, between the Canning River and the Firth River across the Alaska-Yukon boundary. Near Albuquerque, its southernmost point is north of the Sandia–Manzano Mountain Range.