Political World Map: The Earth, the land, and the seas of Earth are depicted on the map. No, the map does not prove that the Earth is a sphere. The map below illustrates the worldwide landmass and oceans that cover the surface of our spherical globe from a two-dimensional (flat) perspective. This map depicts the continents, oceans, important countries, and a network of lines (graticules) that reflect the geographic coordinate system's meridians and parallels.
Because it depicts the borders between sovereign states, it is also a political map. A sovereign state is a legal body represented by a government with sovereignty (self-determination) over a geographic territory under international law.
There are so many other world maps also on the website with their detailed information and images in PDF format such as Blank World Map, Political World Map, World Map Physical, Printable World Map, etc.
Political World Map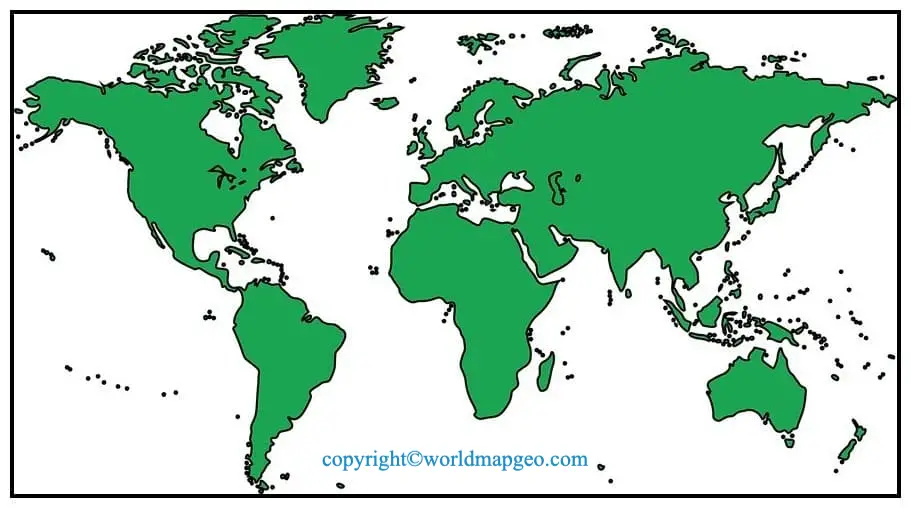 The world political map with names and Political World Map depicts the world, including countries, sovereign states, dependencies or areas of special sovereignty, and the surrounding oceans, seas, oversized islands, and archipelagos, with international borders. There are a lot of them, and Nambia, Button, and Nipple aren't among them. Regardless, the world is divided into 193, 195, 237, 245, 248, or 253 countries, depending on criteria. The United Nations is the world's most prominent intergovernmental organization, with 193 sovereign states.
World Political Map Outline
Africa
Africa is the second-largest continent with over 1.34 billion population. Africa includes 54 sovereign states.
The Americas
Americas is the double continent, including North America and South America. There are 35 sovereign states in the Americas with over 1 billion of population. It includes Central America and the Caribbean and has 23 sovereign states. While there are 12 independent countries in South America.
Asia
It is the largest and the most populous continent divided into many subregions, namely, The Far East, The middle east, Central Asia, Southern Asia, and South Asia. There are 49 sovereign states in Asia with over 4.64 billion in population. The most populous countries in Asia are China and India, and the largest country in Asia is Russia occupying around 30% of the continent.
Oceania/Australia
There are 14 sovereign countries, 10,000 islands, and one continental-sized territory (Australia) in Oceania with over 42.6 million population. Australia and Oceania together form Australia/Oceania Region.
Europe
The western part of the Eurasian continent is called Europe. There are 44 sovereign countries in Europe, out of which 43 are members of the UN. Europe has a 747 million population living there.
Antarctica
Antarctica has no countries, and no population lives on the continent. Only the research personnel live there to conduct their research, and many countries conduct their season and year-round studies in Antarctica.
Transcontinental Countries
Many countries stretch their boundaries on two different continents. These are called transcontinental countries. For example, Egypt is located in North Africa and Western Asia. Russia pushes its boundaries over eastern Europe and North Asia. Azerbaijan, Georgia, and Kazakhastan also stretch small potions into Europe. Also, Turkey occupies some portion of Europe in East Thrace.
Blank World Political Map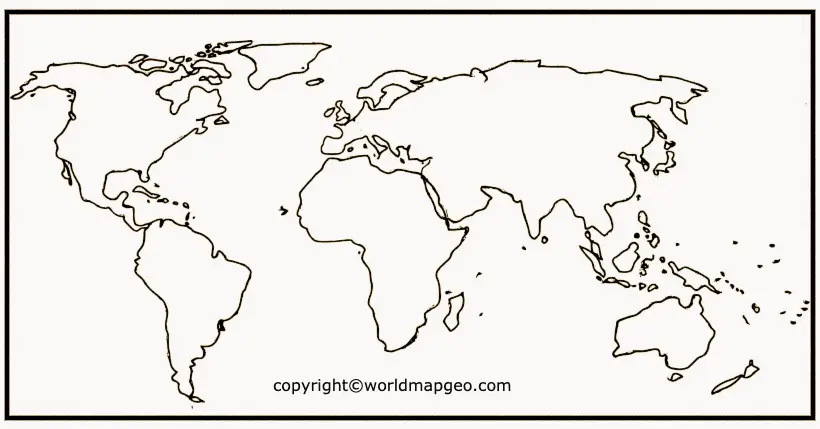 Some countries have changed their names slightly since 2000, which can be seen in new world political maps.
| | |
| --- | --- |
| Old names | New Names |
| Former Yugoslav Republic of Macedonia | North Macedonia |
| Swaziland | Eswatini |
| Czech Republic | Czechia |
| East Timor | Timor-Leste |
| Hungarian Republic | Hungary |
| Libya | State of Libya |
| Cape Verde | Cabo Verde |
| The Islamic Republic of the Gambia | Republic of the Gambia |
World Map Political Black and White
Here you will get a Political Map of the World in Black and White image and PDF format for free. This kind of map basically used for a normal view of an image or the formal kind of image.
Printable World Political Map

You will find Printable World Political Map Hd here in just its PDF format for free. With the help of the printable world political map, your kids can easily find out the countries and regions very easily.
World Political Map Labeled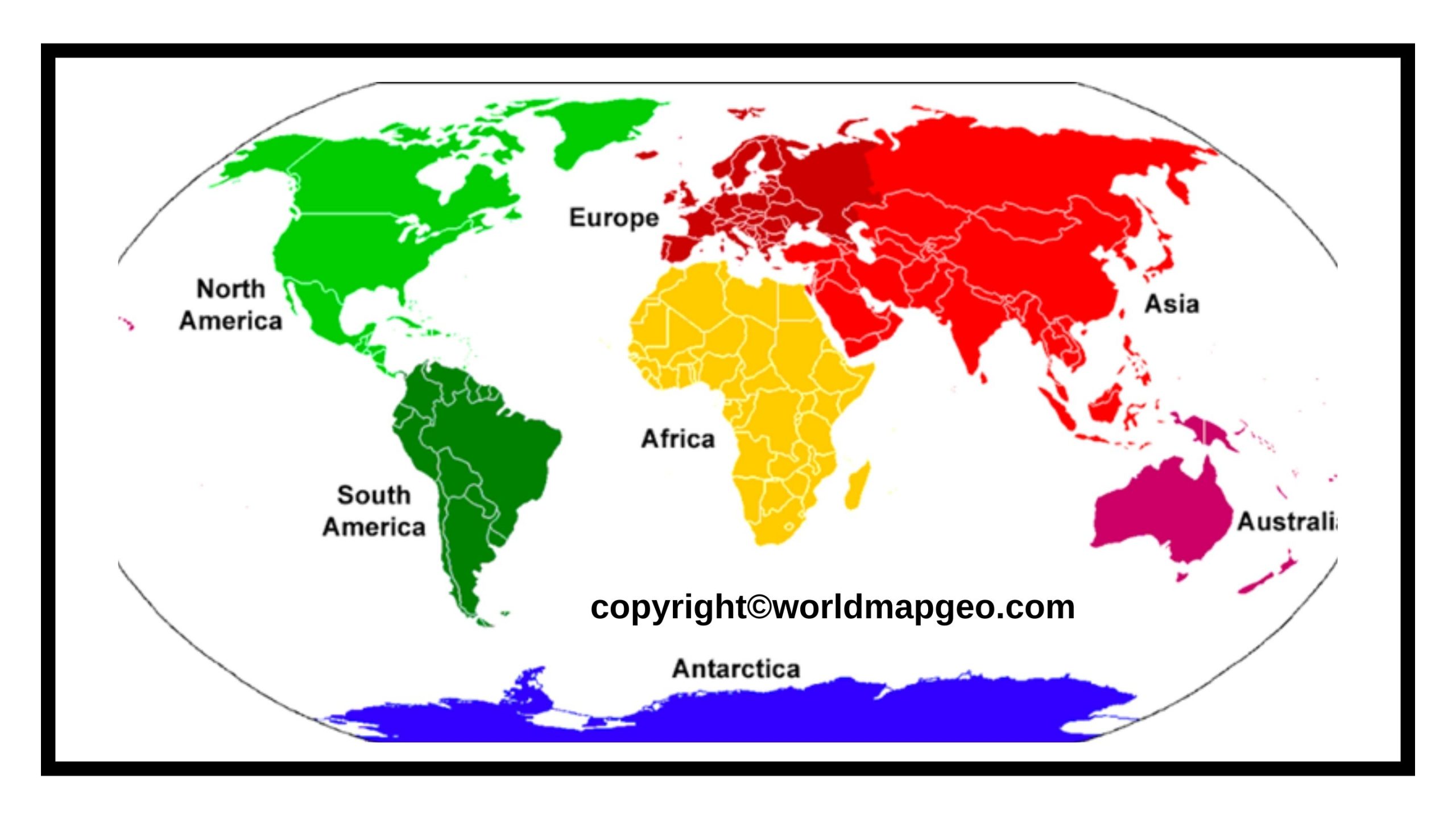 Labeled Map Political World helps people to check out the given places on the map very easily. Kids normally want maps that can help them to discover the regions so fast to learn them as soon as they can.
Political Map of World with countries
The political map of the world displays the boundaries [Map of World Political Boundaries] and territories of countries, providing a visual representation of the global political landscape. While it's not feasible to list every country due to space constraints, here are some key regions and countries you can expect to find on a political map:
North America:
United States: A federal republic comprising 50 states.
Canada: A parliamentary democracy with ten provinces and three territories.
Mexico: A federal republic in North America.
Other countries in Central America and the Caribbean, such as Costa Rica, Cuba, and Jamaica.
South America:
Brazil: The largest country in South America, known for its diverse ecosystems.
Argentina: A federal republic located in the southern part of the continent.
Peru, Chile, Colombia, and other countries that make up the South American region.
Europe

:
United Kingdom: Consists of four countries: England, Scotland, Wales, and Northern Ireland.
Germany: A federal parliamentary republic in Central Europe.
France: A unitary semi-presidential republic in Western Europe.
Italy, Spain, Poland, Greece, and other European countries.
Africa:
Nigeria: The most populous country in Africa, located in West Africa.
Egypt: A country in North Africa known for its ancient history and the Nile River.
South Africa: A country located on the southernmost tip of the continent.
Kenya, Morocco, Ethiopia, and other African countries.
Asia

:
China: The most populous country in the world, situated in East Asia.
India: The second-most populous country, located in South Asia.
Japan: An island nation in East Asia known for its technological advancements.
Russia, Indonesia, Saudi Arabia, and other Asian countries.
Oceania:
Australia: A country and continent in the southern hemisphere.
New Zealand: An island country southeast of Australia.
Papua New Guinea: Located in the southwestern Pacific Ocean.
Fiji, Samoa, and other Pacific island nations.
Antarctica:
While Antarctica is not divided into countries, it is governed by the Antarctic Treaty System, which designates it as a scientific preserve.
These are just a few examples of the countries and regions that you would typically find on a political map of the world. It's important to note that political boundaries can change over time due to various factors, including geopolitical shifts, conflicts, and diplomatic agreements. Therefore, it's always useful to refer to an up-to-date political map to accurately understand the current state of the world's political divisions.
World Political Map with Latitude and Longitude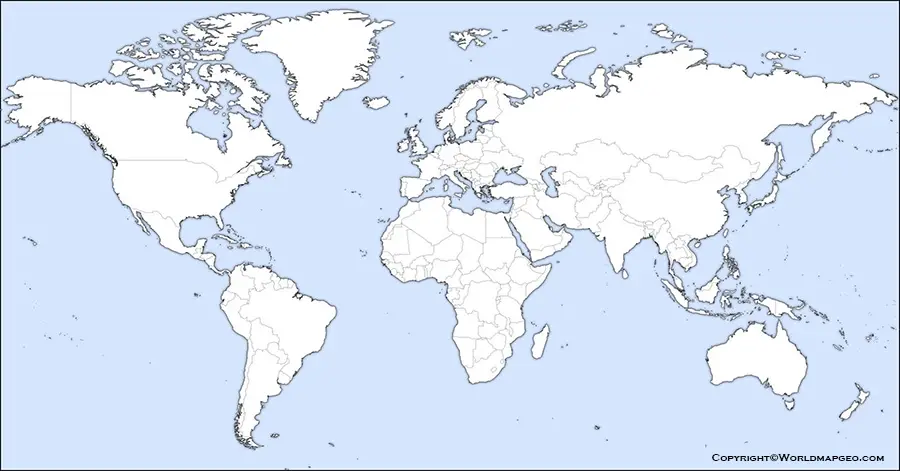 The world political map with latitude and longitude lines provides a comprehensive view of the Earth's political boundaries, along with the reference points of latitude and longitude. Here's a description of such a map:
The world political map with latitude and longitude lines displays the boundaries and territories of countries, while also incorporating a grid of imaginary lines that help determine precise locations on the Earth's surface.
Latitude Lines: The latitude lines, also known as parallels, are horizontal lines that run parallel to the equator. They are used to measure distances north or south of the equator, with the equator itself designated as 0 degrees latitude. The latitude lines are numbered in degrees, ranging from 0 degrees at the equator to 90 degrees at the poles (North Pole and South Pole). The equator divides the Earth into the Northern Hemisphere and the Southern Hemisphere, while the latitude lines above and below it define specific geographic regions.
Longitude Lines: The longitude lines, also called meridians, are vertical lines that converge at the poles and intersect with the equator. The prime meridian, designated as 0 degrees longitude, is a crucial reference point from which other longitudes are measured. It passes through Greenwich, London, and divides the Earth into the Eastern Hemisphere and the Western Hemisphere. The longitude lines are numbered in degrees, ranging from 0 degrees at the prime meridian to 180 degrees at the opposite meridian, known as the 180th meridian or the International Date Line.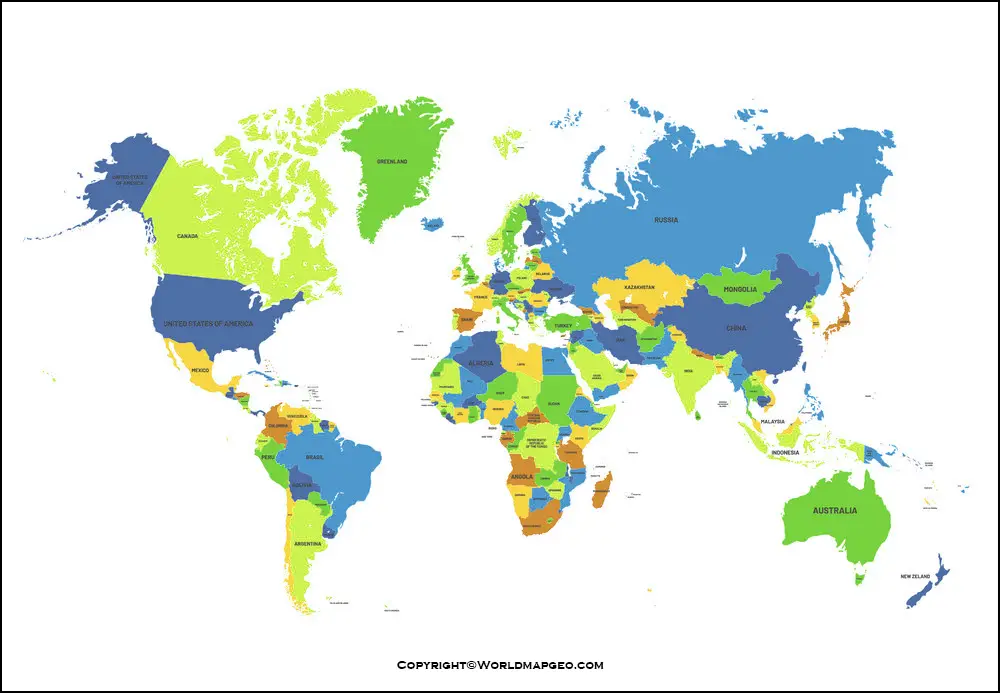 Political Boundaries: Overlaying the latitude and longitude lines are the political boundaries, which demarcate the territories and borders of countries around the world. Each country is depicted with its own distinct color or pattern, making it easy to differentiate between nations. These boundaries are a result of historical, cultural, and geopolitical factors and may change over time due to political developments, treaties, or territorial disputes.
Navigating the Map: The combination of political boundaries with latitude and longitude lines allows for precise navigation and location determination. By referencing the latitude and longitude coordinates, one can pinpoint a specific location on the map, enabling accurate identification of cities, landmarks, or geographic features.
Significance: The world political map with latitude and longitude lines is essential for a range of purposes, including navigation, surveying, international relations, and understanding global geography. It serves as a tool for studying the distribution of landmasses, the location of countries, and the relationship between political boundaries and natural features.
It's important to note that the world political map with latitude and longitude lines is a dynamic representation that can change as new territories emerge, borders are redrawn, or political circumstances evolve. Staying up to date with the latest maps ensures the most accurate understanding of the world's political divisions and geographic coordinates.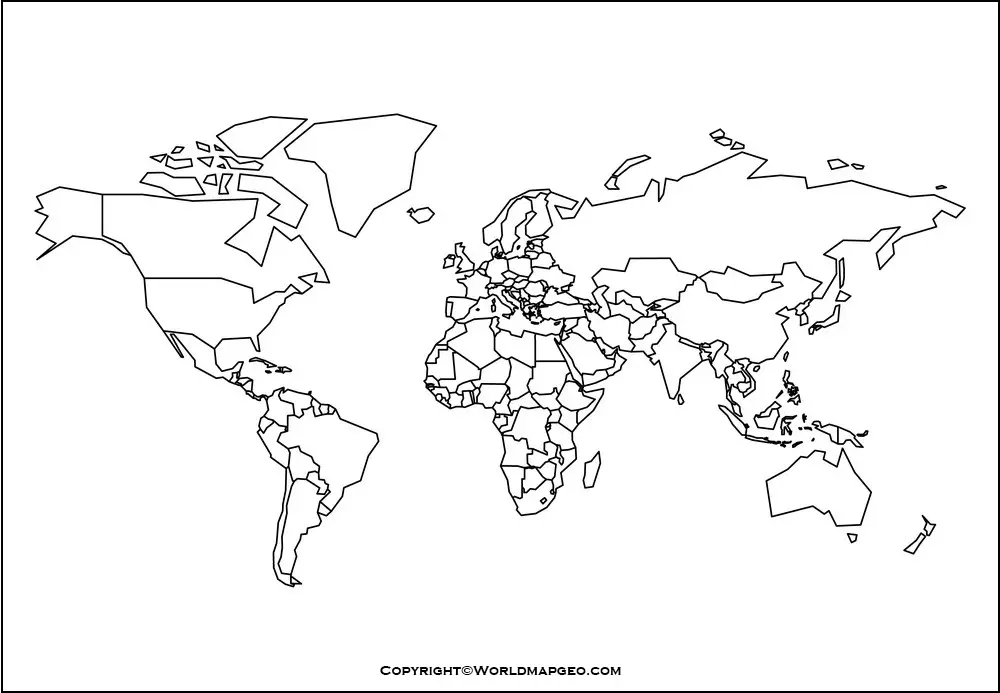 Q1: What is a Political Map of The World?
A1: A political map of the world is a type of map that focuses on illustrating the political boundaries and divisions of countries, territories, and administrative regions across the globe. It provides a visual representation of the political organization and territorial claims of nations. Here are the key features and characteristics of a political map of the world:
Country Boundaries:

The map displays the borders that separate one country from another. These boundaries are typically depicted as solid lines and help identify the extent and shape of each country's territory.

National Capitals:

The political map often includes the capital cities of each country. Capitals are indicated with specific symbols or labels, highlighting the administrative centers and seats of government.

Administrative Divisions:

The map may feature the internal divisions within countries, such as states, provinces, regions, or other administrative units. These divisions can help understand the subnational organization and governance structures of different nations.

Dependent Territories

: Political maps sometimes include dependent territories or regions that are under the control or influence of another country. These territories may have varying degrees of autonomy and are typically indicated with different colors or symbols.

Disputed Areas:

Some political maps highlight disputed territories or regions where multiple countries have competing claims. These areas are often represented with dotted lines or special markings to denote the contested nature of their boundaries.

Labels and Legends:

The map includes labels or names of countries, cities, bodies of water, and other significant geographic features. A legend or key is usually provided to explain the symbols and colors used to represent different countries or regions.

Major Water Bodies

: While the primary focus is on political boundaries, a political map may also include major bodies of water, such as oceans, seas, lakes, and rivers. These water features provide context and help understand the geographic relationships between countries.

Scale and Orientation:

Political maps typically include a scale bar to indicate the relative distances between locations on the map. They may also include a compass rose or north arrow to show the orientation of the map (i.e., which direction is north).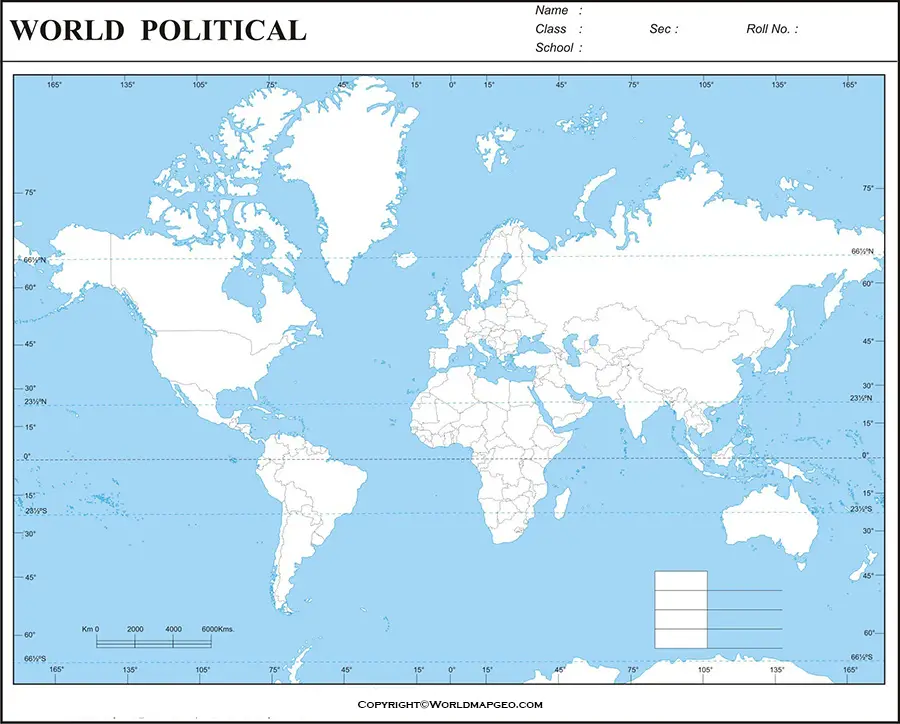 Political maps are widely used for educational, reference, and analytical purposes. They help us understand the distribution of political power, geopolitical relationships, and the diversity of political systems across the world. They are valuable tools for studying international relations, global politics, and the complexities of borders and territorial claims.