It can be a bit tricky to know how to get around in Tucson, Arizona if you're not familiar with the city's streets and neighborhoods. Luckily, there's an easy solution using the free printable Tucson Zip Code Map! The map features the city's major streets and intersections, as well as key landmarks like grocery stores and restaurants. Simply print out the map and take it with you on your travels.
Tucson Zip Code Map
Tucson, Arizona is a vibrant and culturally diverse city with a multitude of neighborhoods that offer unique experiences for its residents and visitors. To navigate through the city's various zip codes, it is crucial to have a comprehensive Tucson Zip Code Map. This interactive map provides an easy-to-use tool for individuals to explore the different areas of Tucson, whether they are relocating or simply looking for new places to discover.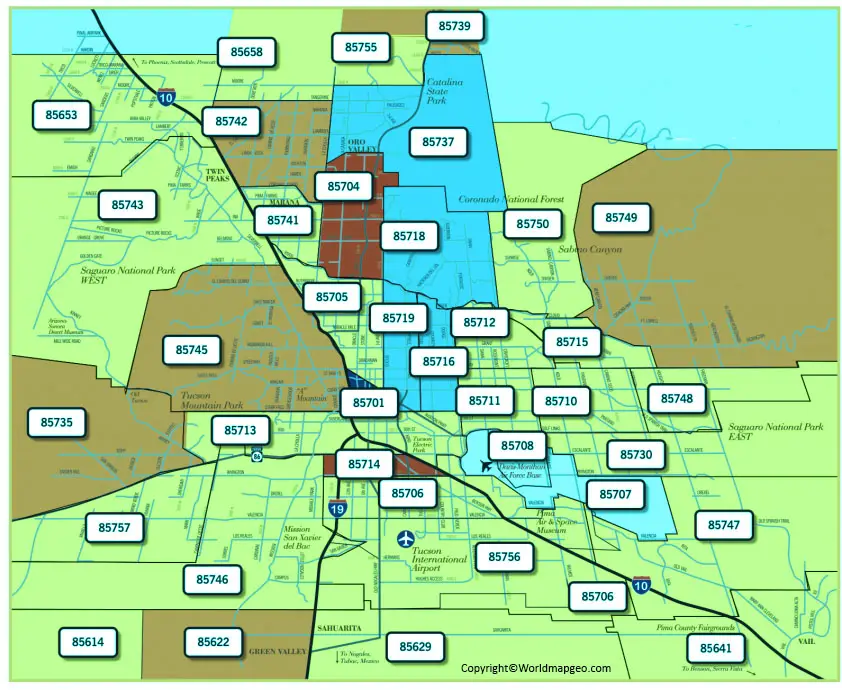 With over 30 zip codes in Tucson, each area possesses its own distinct charm and characteristics. Residents can use the Tucson Zip Code Map to identify which neighborhoods align with their preferences and needs. From historic districts like Barrio Viejo to upscale communities such as Catalina Foothills, this map showcases the diversity of housing options available in Tucson. Check out other Zip Code maps:- Miami Zip Code Map, Texas Zip Code Map, Tennessee Zip Code Map.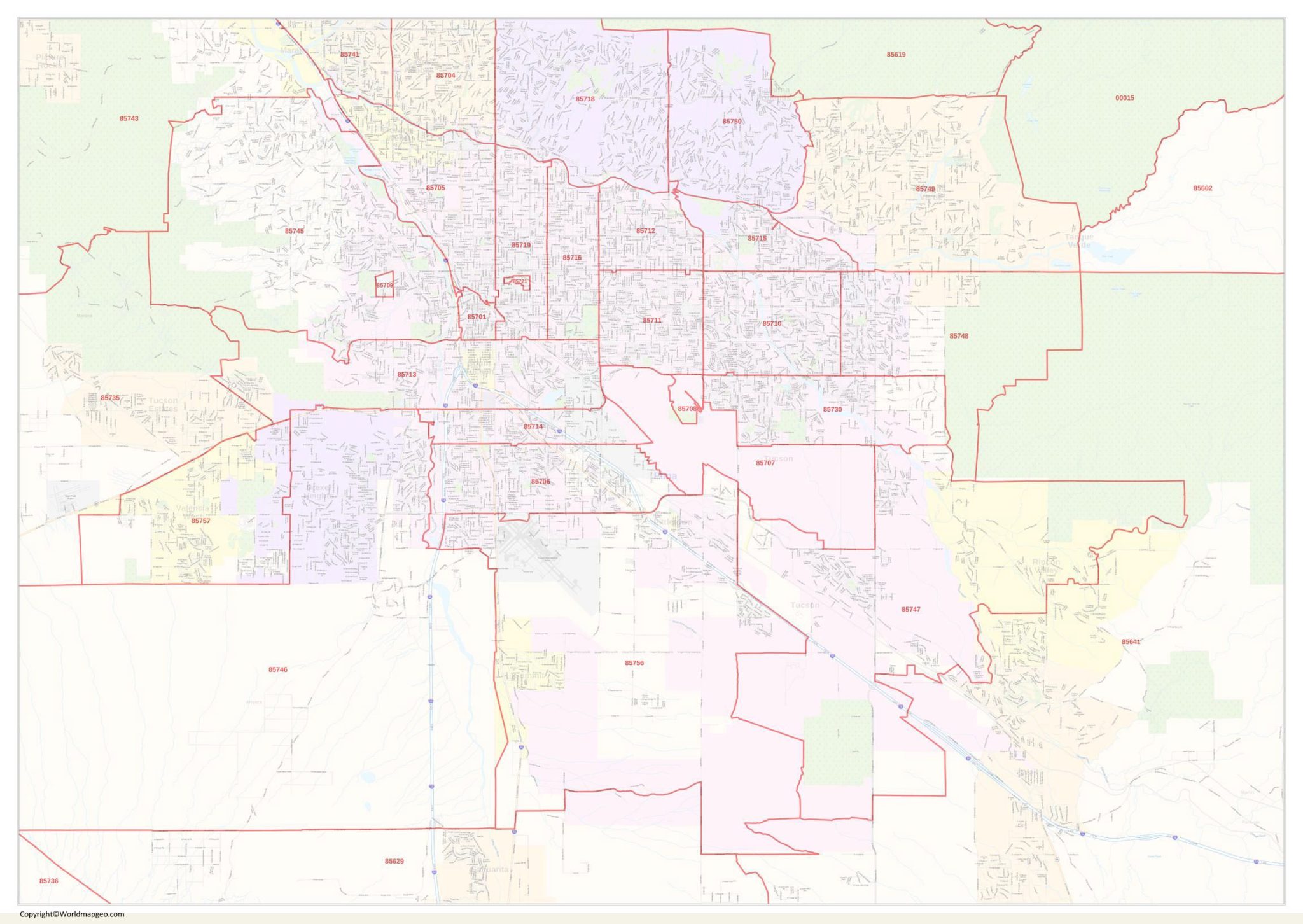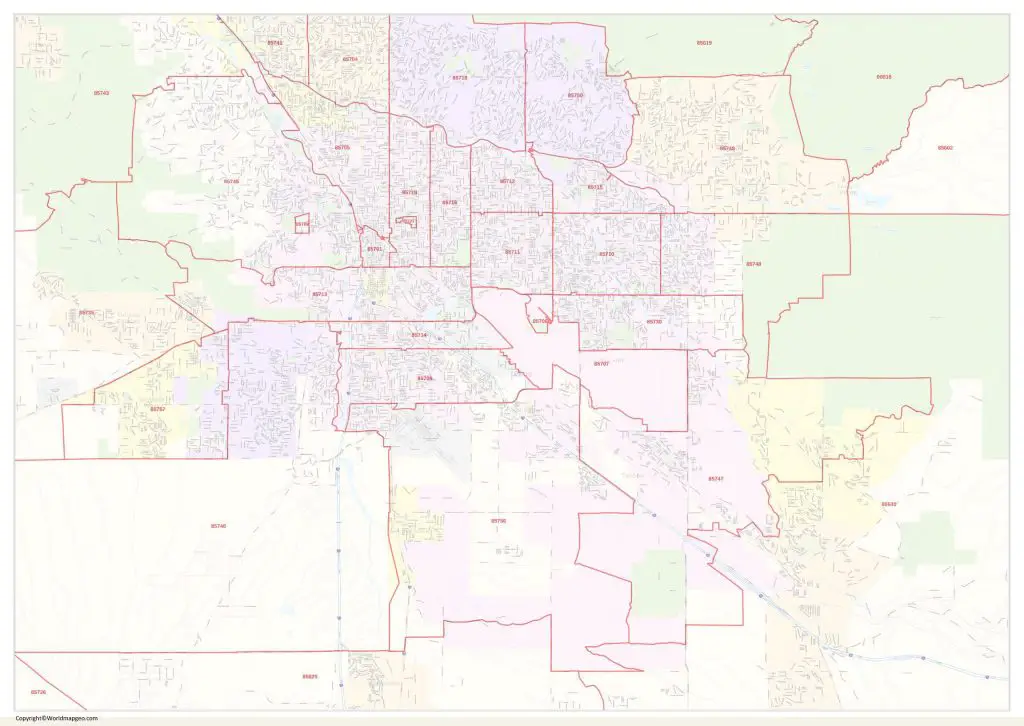 Tucson, AZ is located in southern Arizona. With a population of just over half a million people, it is one of the larger cities in the state. The city has a Mediterranean climate with hot summers and mild winters. Tucson's economy is based on education, government, and tourism. It is home to the University of Arizona, Pima County Sheriff's Office, and several other major institutions. Tucson is served by two interstate highways and has a well-developed public transportation system.
Map of Tucson Zip Codes
Tucson, located in southern Arizona, is a vibrant city known for its rich culture, beautiful landscapes, and diverse neighborhoods. Understanding the layout of the city can be made easier by exploring Tucson's zip codes. With a map of Tucson zip codes in hand, you can gain valuable insights into the different regions and plan your visits or commute more efficiently.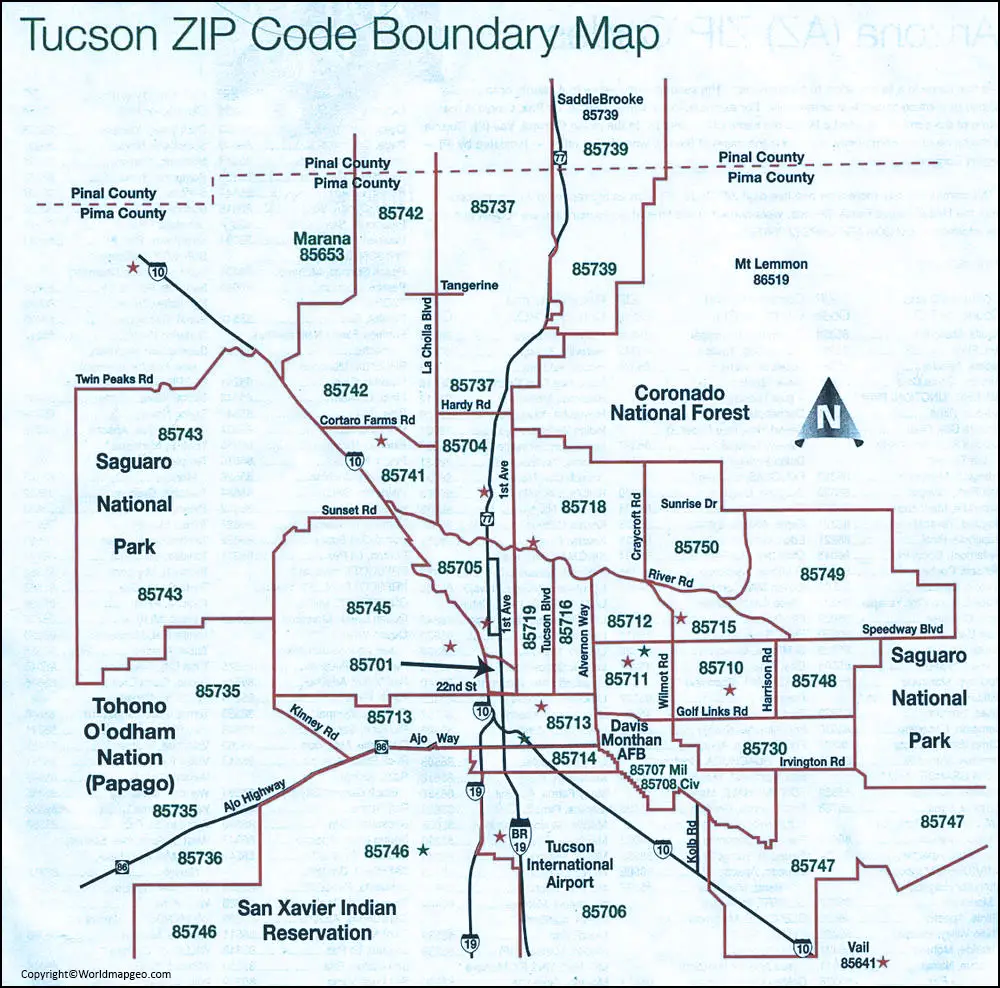 The city is divided into several areas with unique characteristics. For instance, downtown Tucson (zip code: 85701) offers a mix of historical buildings, trendy shops, and lively entertainment venues. On the other hand, zip code 85719 encompasses the University of Arizona campus area where you'll find a youthful vibe with numerous restaurants and cafes catering to students' tastes.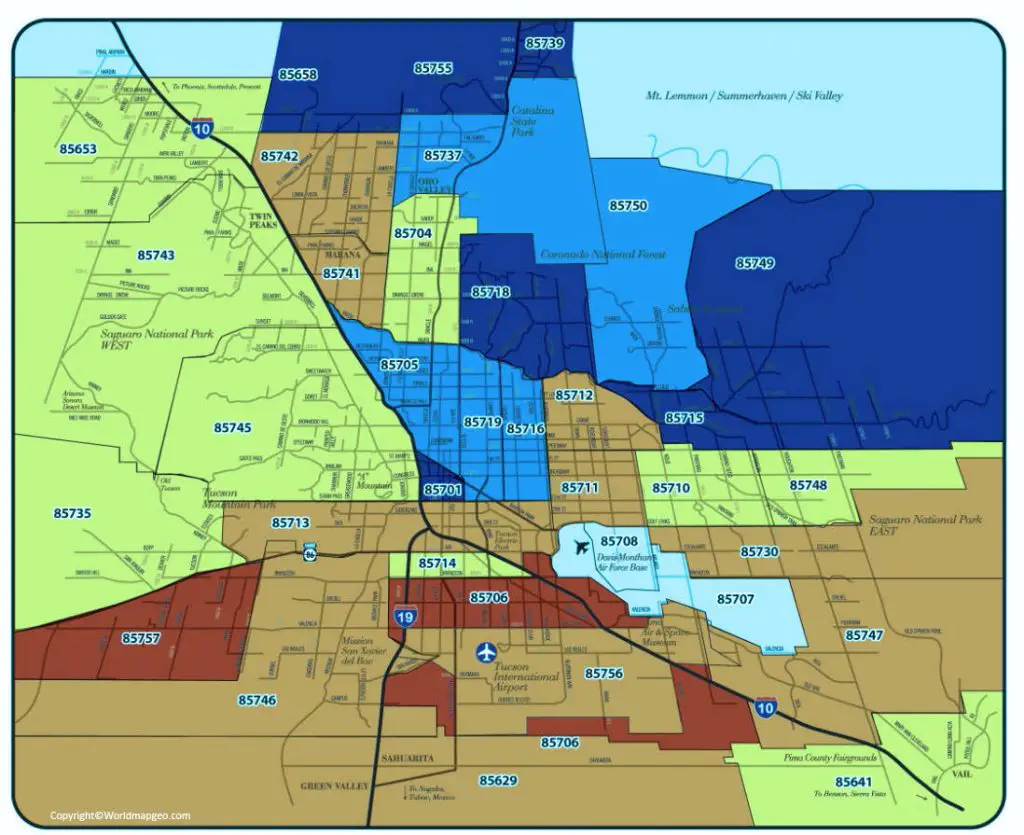 Exploring further outwards from central Tucson reveals even more distinct neighborhoods. The tucson az zip code map is a great way to get a quick overview of the area. The map has different colors and symbols to indicate different types of businesses. The map also has handy information about schools, hospitals, and other important places in the area.
Zip Code Map of Tucson
Are you curious about the different neighborhoods and areas of Tucson? Look no further! Our comprehensive zip code map of Tucson will provide you with a detailed overview of the city's various districts. Whether you're a new resident, planning to move, or simply want to explore different parts of town, this map is an invaluable resource. With 8 sentences, we'll take you on a virtual tour through the diverse landscapes and vibrant communities that make up Tucson.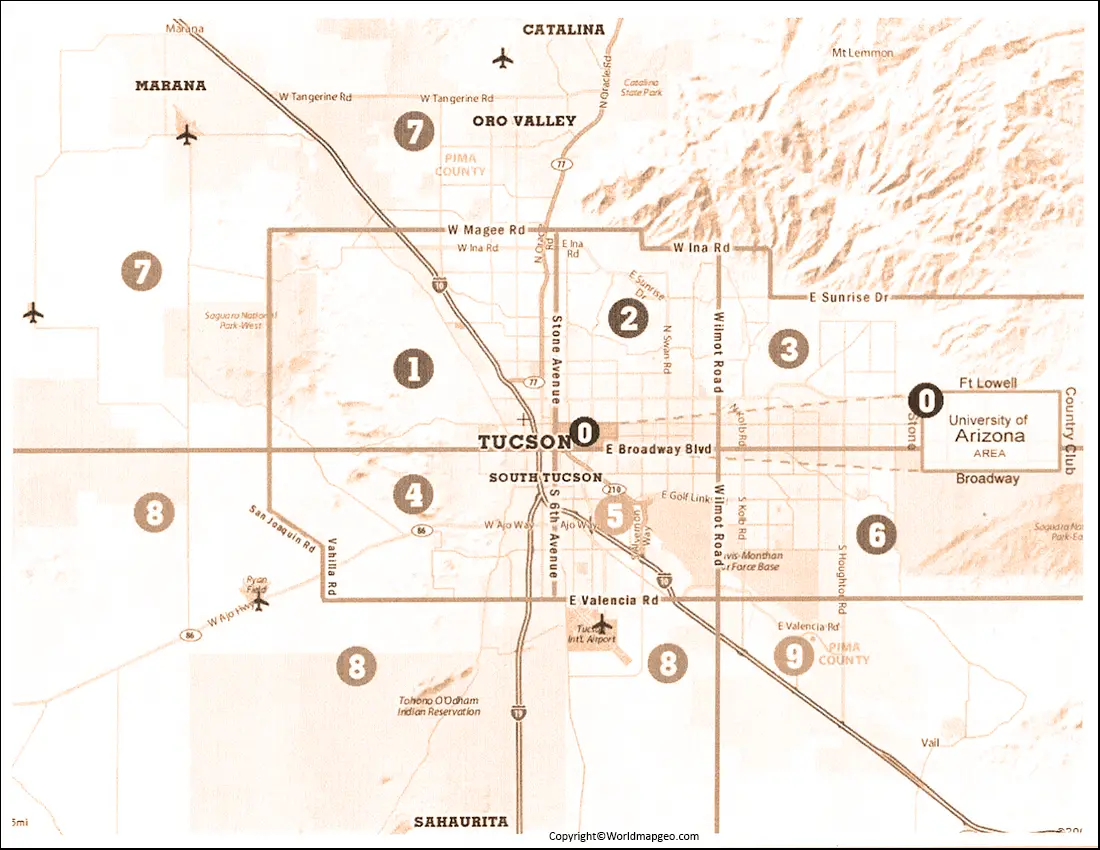 Starting in the northwest corner of Tucson, zip code 85704 encompasses areas such as Oro Valley and Catalina Foothills. This region is known for its stunning mountain views, upscale homes, and proximity to outdoor recreational activities like hiking and golfing. As we move southeastward into zip code 85719, we find ourselves in the heart of downtown Tucson.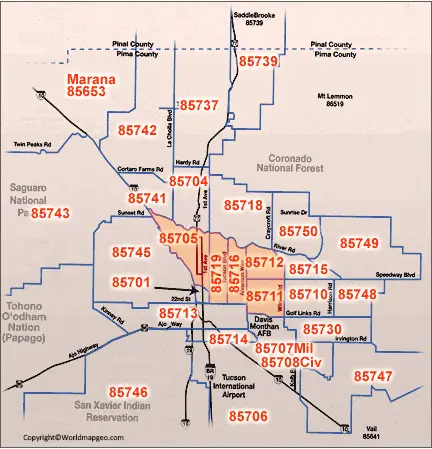 The Tucson zip code map is a valuable resource for anyone who lives, works, or travels in the area. The map includes detailed information about each zip code and its neighborhoods, including population, demographics, businesses, and top attractions. The map can be downloaded for free from the Tucson Municipal website.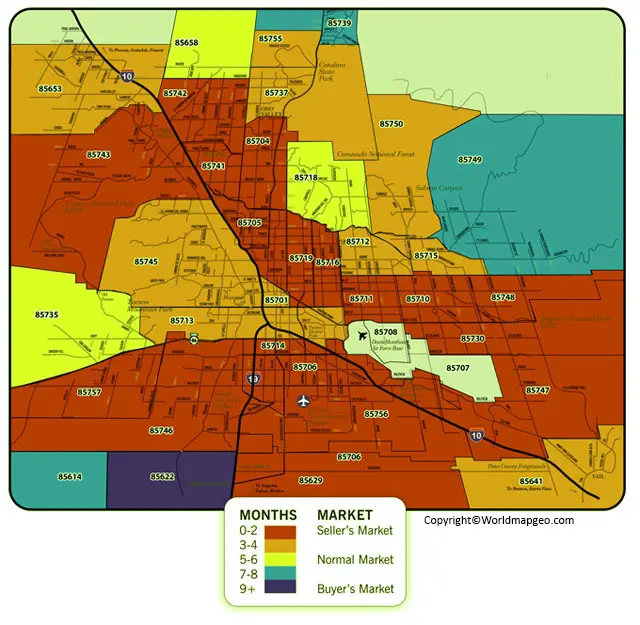 With over 100 zip codes in the Tucson metropolitan area, this detailed map allows individuals to locate specific areas quickly. Each zip code represents a different section of the city with unique characteristics, such as residential communities with family-friendly amenities or bustling downtown districts filled with restaurants and entertainment options. By referring to a Tucson map by zip code, individuals can pinpoint their desired location accurately and efficiently.
Tucson Map by Zip Code
Tucson, Arizona is a vibrant city known for its rich culture and stunning landscapes. For residents and visitors alike, having a comprehensive map of the area is essential for navigating through its various neighborhoods and attractions. A Tucson map by zip code provides an in-depth understanding of the city's layout, making it easier to plan trips, find services, or discover hidden gems.
Moreover, this map offers valuable insights into the demographics and socioeconomic profiles of each neighborhood in Tucson. The map is a great way to research neighborhoods and learn about local businesses. It can also help residents find their way around town and plan trips. The map is especially helpful for people who live in unfamiliar areas or have trouble reading street addresses.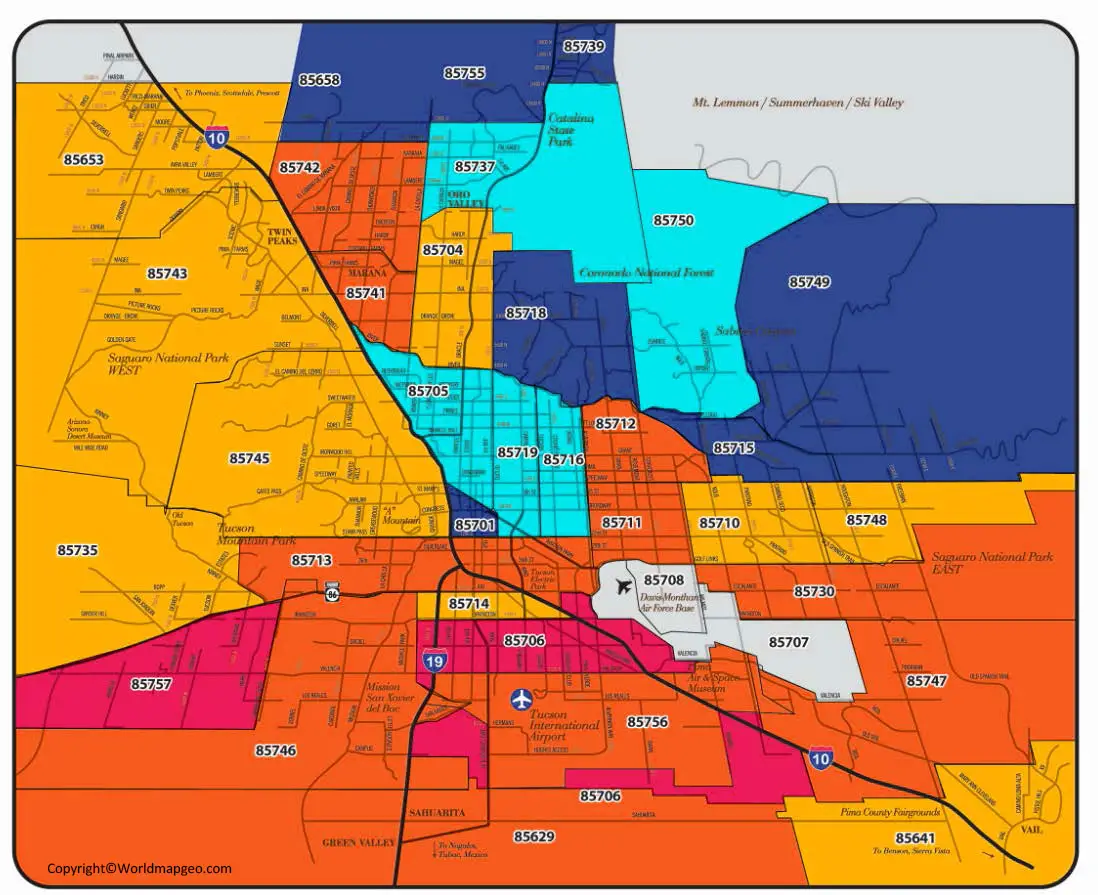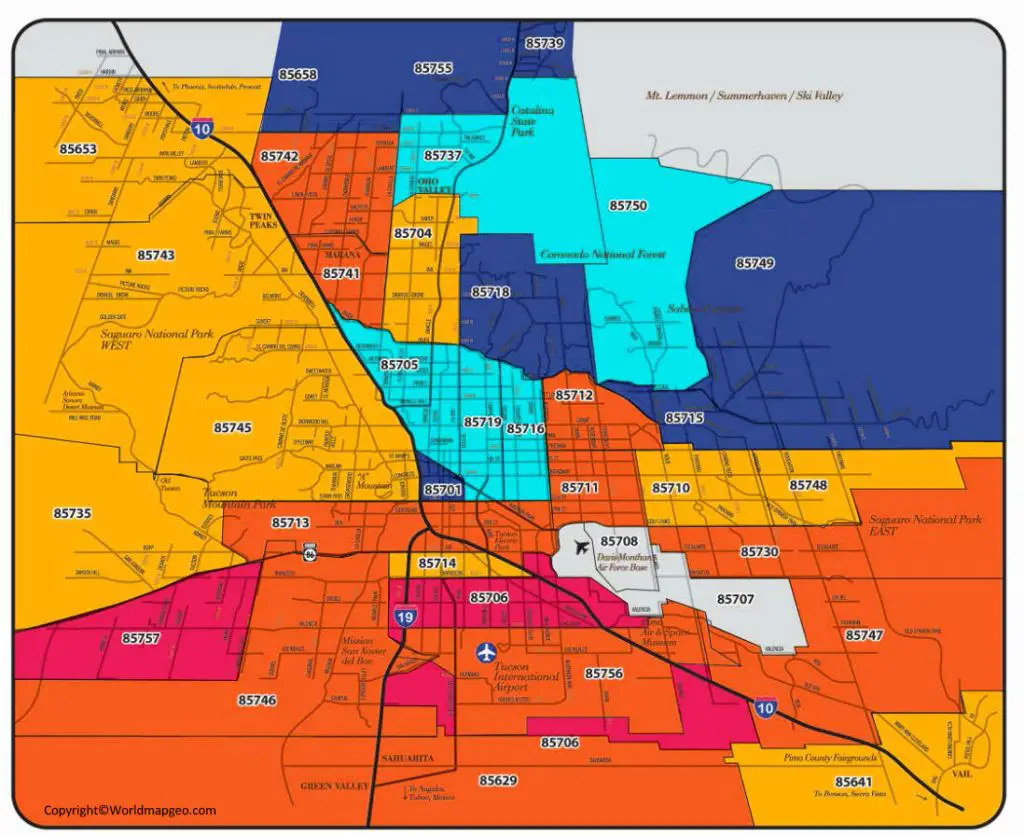 | | |
| --- | --- |
| Neighborhood | Zip Code |
| Downtown | 85701 |
| Barrio Viejo | 85745 |
| Fourth Avenue | 85705 |
| El Presidio | 85701 |
| Armory Park | 85701 |
| Sam Hughes | 85716 |
| Catalina Foothills | 85718 |
| Midtown | 85711 |
| Oro Valley | 85737 |
| Marana | 85653 |
| Vail | 85641 |
If you're looking to find your way around Tucson, there's no need to fumble through a pile of papers. Download our free printable Tucson zip code map and be on your way. Simply enter your address into the search bar and we'll show you the nearest businesses and attractions.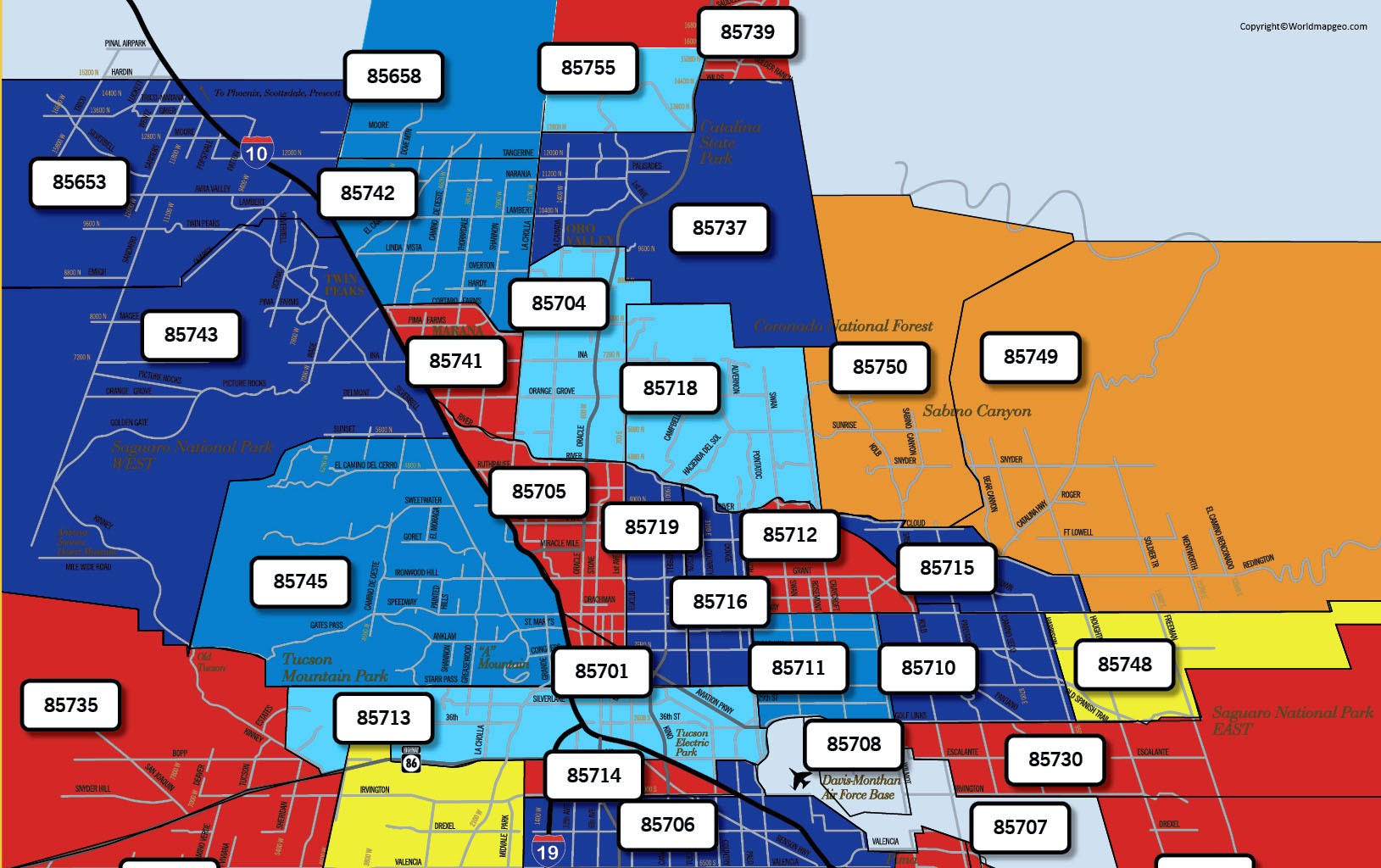 Looking for more information? Simply click on any of the icons on the map to learn more about what's nearby, including addresses, phone numbers, and web links. You can also zoom in or out to view different parts of town.
Zip Code Map of Tucson Arizona
Tucson, Arizona is a vibrant city nestled in the Sonoran Desert. With its rich history and diverse culture, it's no wonder that Tucson has become a popular destination for both tourists and residents alike. If you're planning on exploring this beautiful city, a zip code map can be an invaluable tool.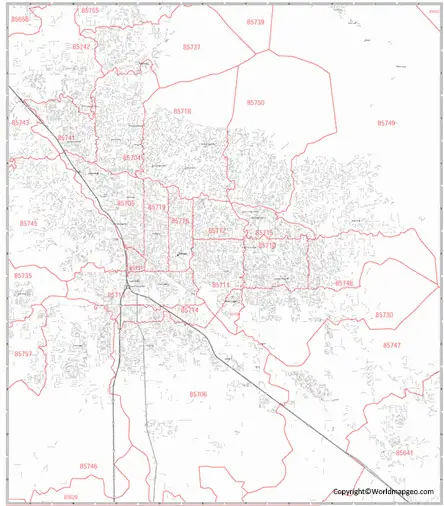 A zip code map of Tucson allows you to easily navigate through the various neighborhoods and districts. Whether you're looking for trendy restaurants and shops in downtown or seeking tranquility in the foothills of the Santa Catalina Mountains, having a visual representation of the zip codes can make your search much easier. From 85701 in the heart of downtown to 85745 on the west side, each zip code offers its own unique charm and attractions.
In addition to helping you find your way around Tucson, a zip code map can also provide valuable information about demographics and real estate trends. Hope these Zip Codes will definitely be helpful for you and fulfill your requirements.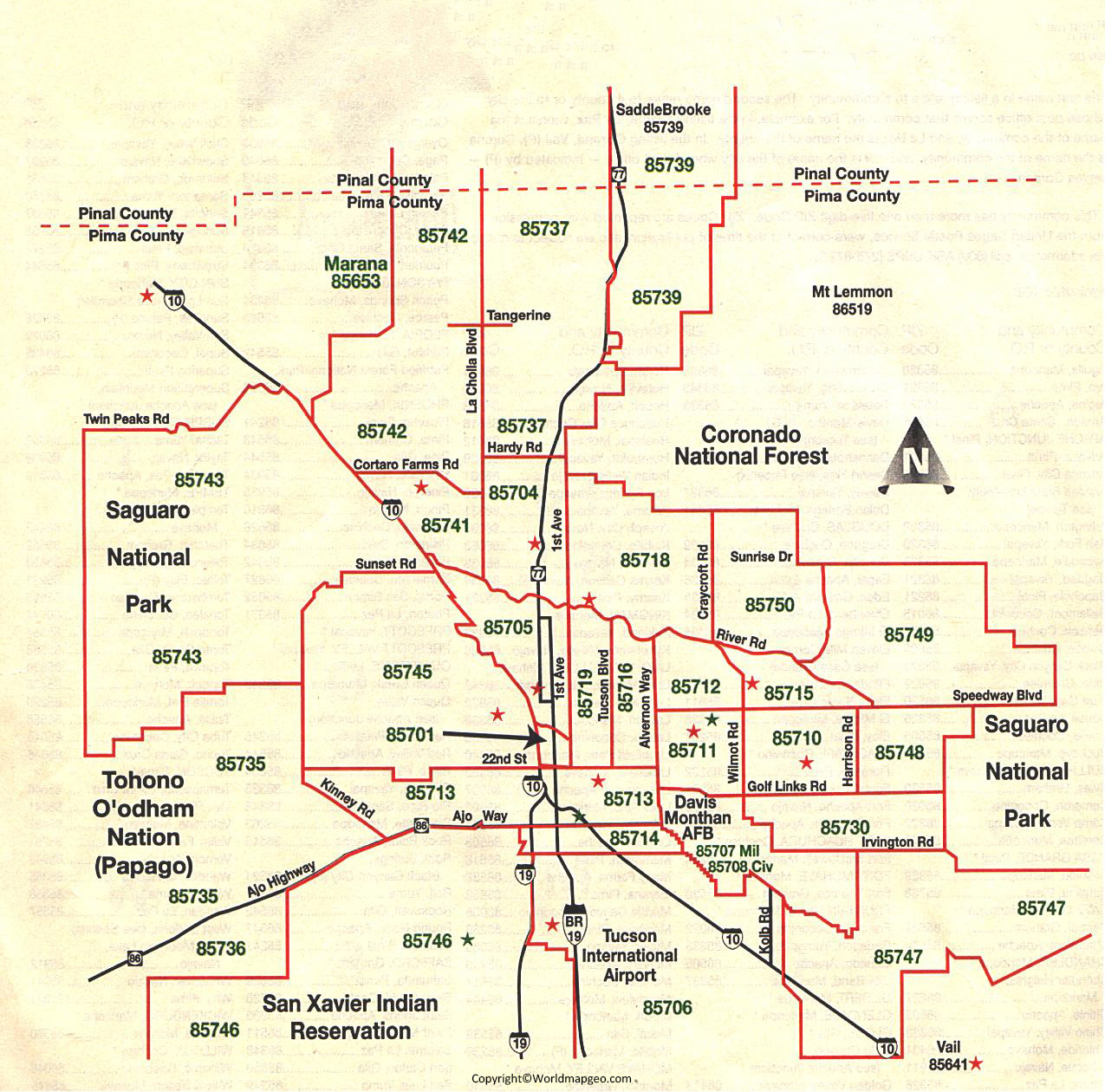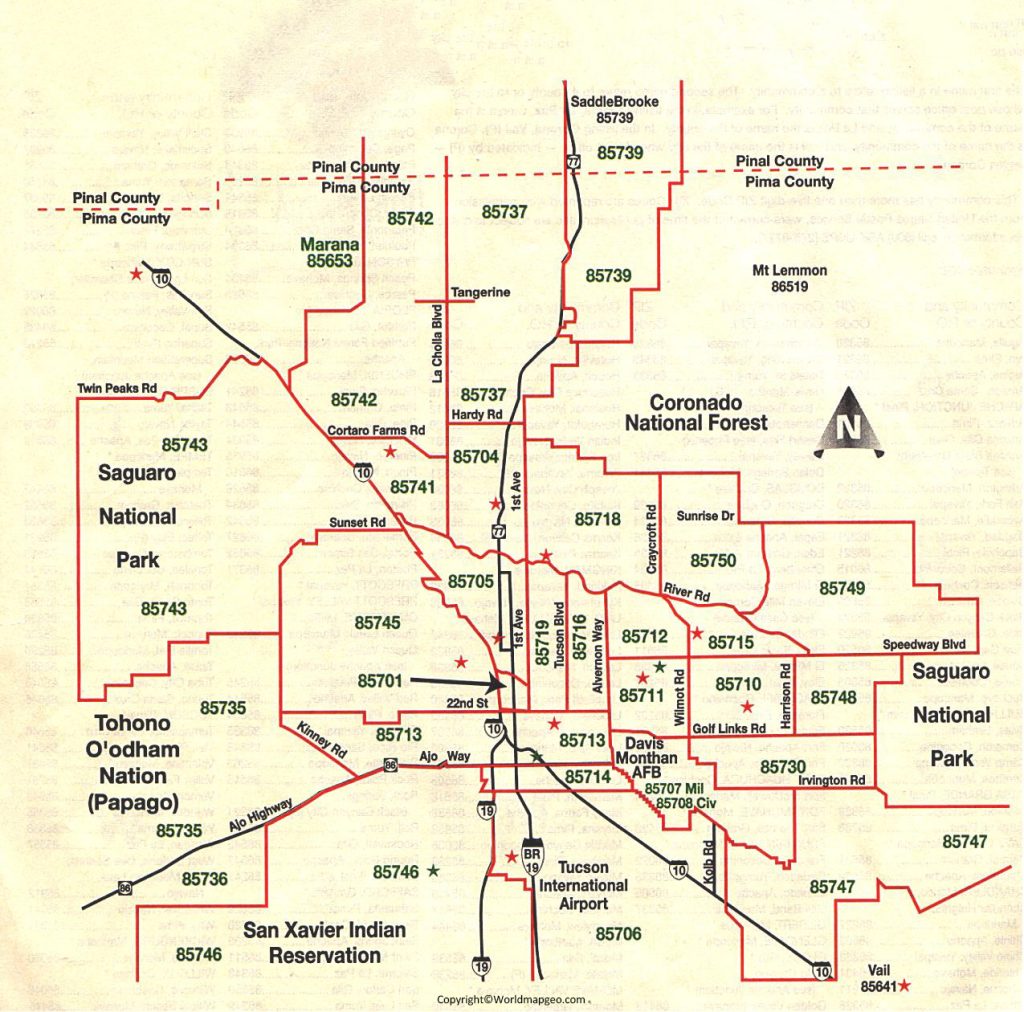 If you live in the Tucson area and need to know where something is, chances are you can find the information you need on a map. A printable Tucson zip code is a great way to have all of the necessary information at your fingertips, without having to search through pages of text. The map includes street names, major highways and landmarks, making it easy to get around town.